When:
June 14, 2019 @ 7:00 pm – 10:00 pm
2019-06-14T19:00:00-05:00
2019-06-14T22:00:00-05:00
Where:
PianoForte Studios
1335 South Michigan Ave
Chicago IL 60605
Travel to Spain without leaving Chicago! Enjoy a glass of wine or two and get lost in the beautiful sounds of Flamenco Singer Patricia Nuñez "La Tiranta" accompanied on Spanish guitar by Ricardo Diaz, on dance floor by Cristina Sirbubalo and on percussion by Haris Sirbubalo.Tradition, Art and Passion of Flamenco music..OLE!!
CHICAGO FLAMENCO BEAT
7:00 PM-10:00 PM
SHOWS STARTS 7:45
$40 INCLUDED
WINE AND TAPAS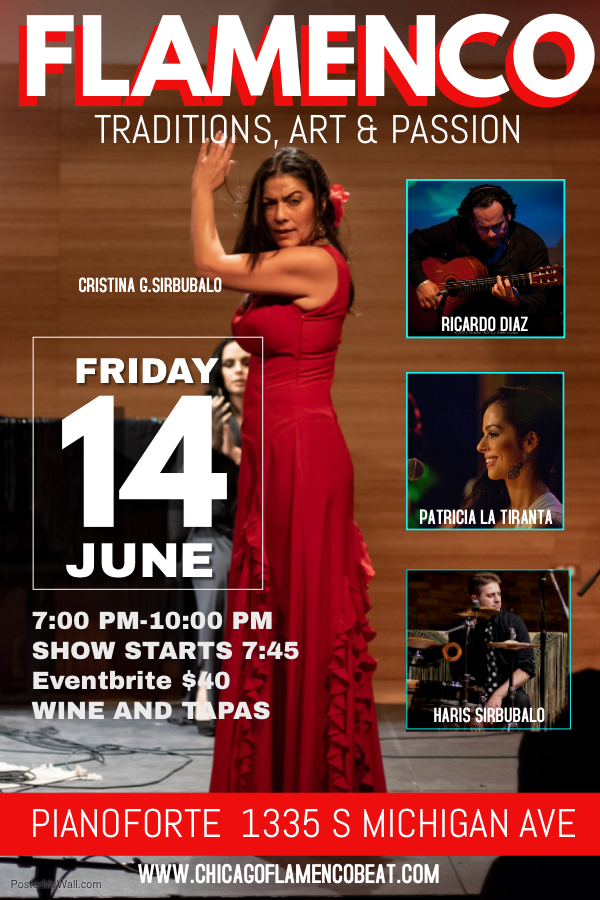 Ricardo Diaz
​Ricardo Diaz began performing in festivals and flamenco "tablaos," in the United States, Canada, South America, Asia and Europe. His work includes collaborations with international dance companies such as Teatro Flamenco and "La Tania" of San Francisco, Caterina Costa of Rome, Italy, Yjastros of Albuquerque, New Mexico and his own group, Flamenco Sur, based in Marseilles, France. Ricardo also has toured and performed with renowned flamenco artists such as Alejandro Granados, Jose Anillo, Pastora Galvan, Cristo Cortes and Andres Marin. He has released "Travesuras" with the Blue Light Records
Patricia Nuñez "La Tiranta"
Patricia Nuñez "La Tiranta", singer, was born in Córdoba in 1987. She inherited her passion for singing from her musical family background, particularly her mother. She studied sculpture in the Academy of the Arts in Córdoba and from an early age worked with different musicians and artists from her city, such as Rafael Trenas Jr, Álvaro Vizcaíno, Xavier de la Torre and others. She later moved to Granada where she studied musical production and started her career. She has taken part in the Ensemble Español tours in the US. In 2016 She was opening the Chicago Flamenco Festival singing for Raquel Heredia "La Repompilla". She sings regularly at different venues throughout the Chicagoland area and Midwest. She has performed with Pol Vaquero, Carmela Greco ,Raquel Heredia and family and, among other notables.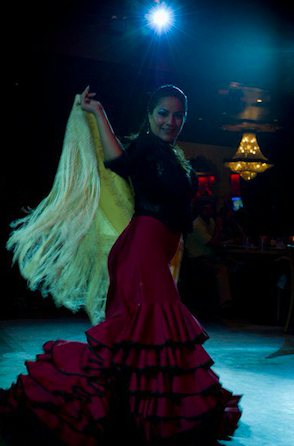 Cristina G.Sirbubalo
Cristina Gutiérrez Dominguez, those who know her understand she is a born dancer by how she can naturally hear and follow rhythms. Cristina began her academic studies at Northeastern Illinois University under the supervision of Venetia Stifler for Contemporary Dance, which included technique classes of ballet, modern, jazz, choreography and performances thru The Ruth Page Dance Series.Cristina then changed her focus of dance and music to study Spanish Dance with Dame Libby Komaiko. Cristina's dedication to dance sent her to Spain several times to seek authentic flamenco. Her first experience was with world famous Juana Amaya in Sevilla where Cristina had a crash course in one of the most challenging dances Seguirias. Cristina return to Spain and stayed with Carmen Ganero Cristina also had the privileged to go and stay with the family of Pancequito del Puerto de Santa Maria, where she studied under the bailaora Lola de Cai. Cristina has dedicated herself to the studies of music and dance of flamenco thru out her career and will name just a few more that really helped form the dancer she is.. Carmela Grego, Edo Sie, Azucena Vega…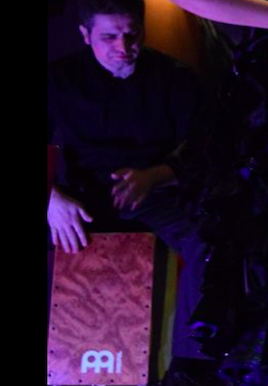 Haris Sirbubalo
Haris Sirbubalo drummer and percussionist from Bosnia and Herzegovinia is coming from family of musicians. His love for flamenco music started in 2009 where he met his future wife Cristina Gutierrez Sirbubalo who is accomplished flamenco dancer from Chicago. As passionate percussionist he picked up playing Cajon fairly quickly and studied flamenco rhythms of Bolerias, Fantango, Tangos, Alegrias and Seviallanas. In 2011, he joined to play cajon in local flamenco group "Soul Duende" where he had chance to work with Jesus Dearaceli known flamenco guitarist from Spain and dancers Azuzena Vega and Lily Vega. He worked with them on flamenco project "Frederico Garcia Lorca" and performed this show at "Old Town School of Folk music" After this project he continued to play cajon with his wife Cristina at various local Chicago Flamenco Venues. At this venues Haris had chance to work with Mehran Jalili flamenco guitarist from Chicago and Maya Tatiana flamenco dancer from Chicago. He performed as cajon player with them at Chicago Flamenco festival in 2017.
​